Given that the church was often the only substantial building in a medieval parish, it is no surprise that, in most cases, the church is all that has survived. If the churches dominate rural East Anglia now, imagaine how they must have done so five hundred years ago!
We tend to use the words 'parish' and 'village' interchangeably, but they are quite different. A parish covers a wide area, and many of the villages that take their parish's name have come to dominate it relatively recently. Traditionally, populations were much more scattered through the parish, with many more hamlets and fewer centralised villages. It was often the largest hamlet which was around the parish church that developed as the village bearing the parish name, but not always. Neatishead, for example, contains at least three settlements, and the church is not in the one named for the parish.
One of the attractions of visiting old churches is simply that they are so ancient, and to enter them is to find oneself at a touchstone down the generations. For, although Christian devotion has never had as continually complete a penetration in our parishes as many might imagine, the church building itself has always been the focus of community, in secular as well as spiritual terms.
One of the delights of Norfolk for me is quite how much has survived that is truly ancient! Churches like Great Dunham and Newton by Castle Acre are almost entirely Saxon in structure - there's hardly anything like this in Suffolk, which I know much better.
These are ancient places, mysterious, harder to interpret than their 15th century cousins. To stand in them is often to be awed by our own sheer distance from their makers.
However, no building is untouched by the generations that succeeded the builders. Almost every century has left its mark on almost every Norfolk church. But it is this, of course, that makes them all the more worth visiting.
I am afraid that these four churches were visited before I went digital, and so the pictures are lacking in both quantity and quality. I promise to revisit when I can, and update them. I went there in the first place as part of the 2003 Churchcrawler yahoogroup AGM. Do check out the churchcrawler list. No interest in churches is complete without it.
Simon Knott, November 2004
click below to visit the churches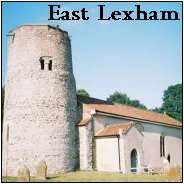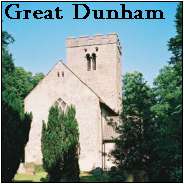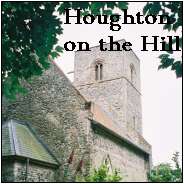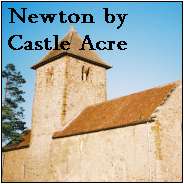 Amazon commission helps cover the running costs of this site.
home I index I latest I introductions I e-mail I about this site I glossary
Norwich I ruined churches I desktop backgrounds I round tower churches
links I small print I www.simonknott.co.uk I www.suffolkchurches.co.uk