home I index I latest I glossary I introductions I e-mail I about this site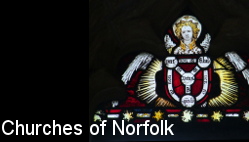 St Margaret, Antingham
Follow these journeys as they happen at Last Of England Twitter.
St Margaret, Antingham

Antingham's parish church is dedicated to St Mary, but right beside it in the graveyard is the ruined shell of its erstwhile companion, St Margaret. Both were parish churches until the Reformation, the two Antingham parishes arising from the presence of two different manors. Indeed, they may have both continued as working churches after the Reformation, because there are the remains of brickwork in the ruins of the porch on the south side of St Margaret. But by the start of the 18th century, when both churches were in a parlous state, permission was given to use the stone of St Margaret to repair St Mary.

A considerable amount remains. The tower stands foursquare, and when I first came this way in 2006 it was covered in ivy and elder, which has obviously since been cleared but has started to encroach again. A long crack from top to bottom in the west wall suggests that it has been struck by lightning. Looking straight up the tower, you can see the brickwork of the tower arch. You can also still see the internal nave walls within the ruin, a slightly furtive place, a great contrast with the clean, neat and tidy church of St Mary on the other side of the graveyard.

Simon Knott, August 2019

Follow these journeys as they happen at Last Of England Twitter.
| | | | | | | | | | | | | | | | | | | | |
| --- | --- | --- | --- | --- | --- | --- | --- | --- | --- | --- | --- | --- | --- | --- | --- | --- | --- | --- | --- |
| | | | | | | | | | The Churches of East Anglia websites are non-profit-making, in fact they are run at a considerable loss. But if you enjoy using them and find them useful, a small contribution towards the cost of web space, train fares and the like would be most gratefully received. You can donate via either Ko-fi or Paypal. | | | | | | | | | | |
home I index I latest I introductions I e-mail I about this site I glossary
Norwich I ruined churches I desktop backgrounds I round tower churches
links I small print I www.simonknott.co.uk I www.suffolkchurches.co.uk