home I index I latest I glossary I introductions I e-mail I about this site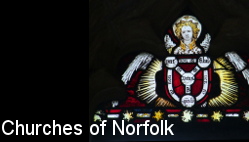 All Saints, Beighton
Read the captions by hovering over the images, and click on them to see them enlarged.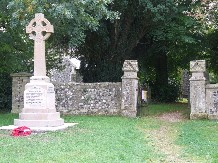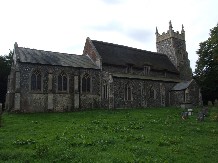 All Saints, Beighton

The Edwardian Norwich architect AS Hewitt is best known for his grand banks which adorn various East Anglian towns, but as a young man in the 1880s he was riding the last wave of Victorian church restorations. He completely rebuilt neighbouring Limpenhoe, and his work here at Beighton is late enough for it to have a vaguely Arts-and-Craftsy feel. The thatched roof of the nave settles prettily over the clerestory windows, as if they were the dormers of a cottage. The chancel is rather blocky by comparison, but both are probably the work of the 14th Century, although that is fairly academic given how much has been replaced. The top part of the tower is also Hewitt's.

The shadowy gloom of the interior, which must have seemed the very thing in the 1880s, is rather unfortunate nowadays, and cannot be very well suited for modern Anglican worship. The furnishings are dark and heavy, and although the building is beautifully looked after, and there has been some attempt to open the church out towards the back, the view to the east fails to lift the heart. Hewitt placed a rather sombre rood group above the remains of the 15th century screen, and this also does little to dispel the gloom.
The best feature of All Saints is the good collection of late 19th Century glass. The chancel glows jewel-like beyond the grim screen, and the work of William Warrington is as good as he usually is. The figures of St John and St James are powerful, full of Victorian High Church confidence.

Best of all, the decorative glass in the north aisle is perhaps the finest of its kind in Norfolk. Leaded patterns swirl around the jewels of colour, and dressed for Harvest Festival they looked at once serious and beautiful, a saving grace for this rather awkward but not uninteresting building.
Simon Knott, November 2007
Amazon commission helps cover the running costs of this site.
home I index I latest I introductions I e-mail I about this site I glossary
Norwich I ruined churches I desktop backgrounds I round tower churches
links I small print I www.simonknott.co.uk I www.suffolkchurches.co.uk