home I index I latest I glossary I introductions I e-mail I about this site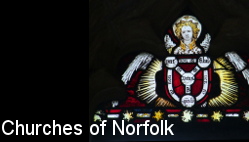 All Saints, Cockley Cley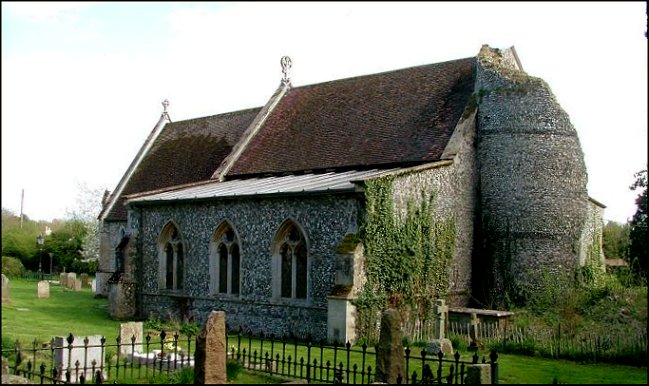 Read the captions by hovering over the images, and click on them to see them enlarged.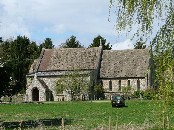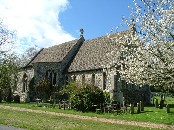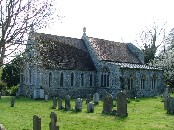 All Saints, Cockley Cley

In this strangely remote area to the west of Swaffham, Cockley Cley is a pretty little village on both sides of the little River Gadder. The church sits to the west of the intriguingly named Twenty Churchwardens pub, which I assume refers to a type of clay pipe. All Saints was once a round towered church, but on 29th August 1991 the tower collapsed. This was unfortunate, because it was pretty much the only surviving medieval work in the whole church, Phipson's restoration of the 1860s being more of a total rebuilding.

The south doorway also survived Phipson's attentions, and inside there are a number of other features, but externally it is now to all intents and purposes a Victorian church. Phipson was an architect who observed the letter rather than the spirit of whichever idiom he worked in, and working here in an Early English style he has given us plenty of lancets, but a fairly stark interior.

The darkness allows the three great lancets in the east window to throw a ghostly light through the pointed chancel arch, and there is plenty of space up there in the east, but the nave seems over-cluttered, despite Phipson's matching of the original south arcade with a new one on the north side.

The church is a good shape, but can never really look its best with all those Victorian benches. Early English architecture enclosed open spaces. How much better it would look if they were replaced with simple wooden chairs.

Still, this is a welcoming place, open to visitors and of interest for the patronage of the Roberts family of Cockley Cley Hall. Theirs is the faux screen forming a vestry in the north-west corner of the nave.

There are some absolutely splendid Roberts memorials in the chancel, which I decided was the best part of the church. They were former Master Cutlers of the city of Sheffield, and I realised that I had come across them before. As a student living in Sheffield some 25 years ago, I had taken part in the mass protests against the visit of Margaret Thatcher to the city during the Falklands War. It seemed a long time ago now.
Simon Knott, May 2006
home I index I latest I glossary I introductions I e-mail I about this site