home I index I latest I glossary I introductions I e-mail I about this site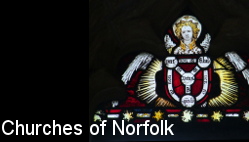 St Helen, Costessey, Norwich
Read the captions by hovering over the images, and click on them to see them enlarged.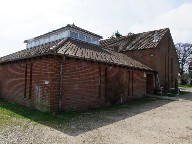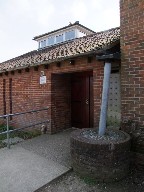 St Helen, Costessey, Norwich

We are in the parish of Costessey, pronounced Cossey, and it still has its village of Old Costessey, with a convincingly rural feel, despite the traffic. But the parish also includes a huge housing estate which is a suburb of Norwich along the Dereham road, and St Helen is a chapel of ease here to the medieval parish church in the village.

In truth, the housing estate is rather dull and characterless, but St Helen is a fine looking building of 1975, in the vernacular style in red brick with tiled roofs. Behind the long body of the church there is a suite of parish rooms forming a large square. The effect is of a group of agricultural buildings. A large cross with a monogram of the church's patron Saint signals its purpose.

Part of the success of the design is the use which was made of recycled bricks; they soften the overall effect. The architect was Andrew Anderson, and despite the starkness of the car park it is a peaceful spot in a busy world. As I stood there, a movement caught the corner of my eye. A robin hopped up from the low branches of a tree onto the gatepost of the adjacent cottage, and eyed me curiously. Suddenly, he broke out into song, and it was as if, for a moment, the mundanity of the Norwich suburbs had fallen away, and I was somewhere lost and timeless.
Simon Knott, May 2010
home I index I latest I introductions I e-mail I about this site I glossary
Norwich I ruined churches I desktop backgrounds I round tower churches
links I small print I www.simonknott.co.uk I www.suffolkchurches.co.uk