home I index I latest I glossary I introductions I e-mail I about this site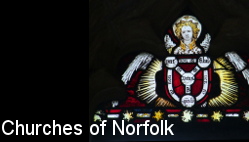 Methodist church, Costessey, Norwich
Read the captions by hovering over the images, and click on them to see them enlarged.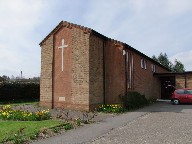 Methodist church, Costessey, Norwich

We are in the heart of Norwich suburbia here, and this handsome building sits not far from the busy traffic of the Dereham Road. I was standing outside reading everything on the noticeboard to see if I could get a feel for the community here, when a man who was just leaving stopped and asked me, very nicely, if he could help me. I explained my mission, and he told me that I must see inside.

I went in. There were some people doing the flowers, and they were very welcoming. They didn't seem to ponder for a second why this mad cyclist would want to see inside their church, and immediately gave me the run of the place. It is bigger than it looks: the church itself, pointed towards the road, is complimented by a hall of similar size at the back. The church was opened in 1963, and it is entirely typical for its date. I doubt that much inside has changed inside since. Everything was beautifully well cared for, and I said so. "Oh yes", said a lady enthusiastically. "We love our church."

I find this again and again at Methodist churches. You express an interest in having a look, just being nosy really, and they treat you like royalty. Is it that nice people become Methodists, or is it that Methodism makes people nice? It's a mystery, I suppose.
Simon Knott, May 2010
home I index I latest I introductions I e-mail I about this site I glossary
Norwich I ruined churches I desktop backgrounds I round tower churches
links I small print I www.simonknott.co.uk I www.suffolkchurches.co.uk