home I index I latest I glossary I introductions I e-mail I about this site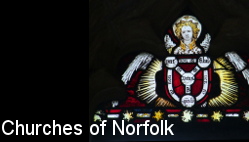 St Margaret, Felthorpe
Follow these journeys as they happen at Last Of England Twitter.
It was one of those glorious early spring days in Holy Week 2019, and we had at last escaped Norwich suburbia for the quiet lanes and little villages of the countryside. The birds in Felthorpe churchyard were equally pleased that the winter was over. The trees were coming into leaf like something almost being said, and all in all it felt like a perfect place to be.

The church is oddly proportioned, sprawling out into its aisles but without a clerestory, just a wide shed-like roof spanning the whole, its squareness accentuated by a short chancel and a tower which seems to be huddling down. The top of the tower dates from the 17th Century, although the odd little pinnacles were added a hundred years later. In between times there was an overwhelming restoration of 1848, early enough for almost nothing of historical interest to have been kept. You step into an interior made glowing by the large range of Ward & Hughes glass, perhaps not the most inspiring workshop of the 19th Century, but the overall effect is pleasing. The east window is signed by Henry Hughes.

There are a couple of curiosities, and the most singular of these is a memorial at the east end of the north aisle to the grandly named Richard Inglett Fortescue Weston Conway, who died at Demerara in South America in 1856. He was 17 years old. At first sight his memorial appears to be a scrolled tablet, but coming closer you can see that this is a trompe l'oeil device, and in fact the tablet is painted onto a sheet of tin. A strange effect, but not unpleasing, and I wondered why we don't see more of them.

At the west end of the nave, the parish chest appears to have been made out of 17th Century panelling, and is very attractive. Other than this, everything is pretty much all of the 19th Century restoration, but it felt a friendly, welcoming spot, and I was pleased to be back here.

Simon Knott, April 2019

Follow these journeys as they happen at Last Of England Twitter.
| | | | | | | | | | | | | | | | | | | | |
| --- | --- | --- | --- | --- | --- | --- | --- | --- | --- | --- | --- | --- | --- | --- | --- | --- | --- | --- | --- |
| | | | | | | | | | The Churches of East Anglia websites are non-profit-making. But if you enjoy using them and find them useful, a small contribution towards the cost of web space, train fares and the like would be most gratefully received. You can donate via Paypal. | | | | | | | | | | |
home I index I latest I introductions I e-mail I about this site I glossary
Norwich I ruined churches I desktop backgrounds I round tower churches
links I small print I www.simonknott.co.uk I www.suffolkchurches.co.uk