home I index I latest I glossary I introductions I e-mail I about this site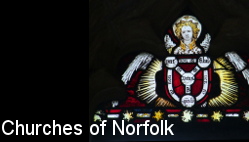 All Saints, Gimingham
Follow these journeys as they happen at Last Of England Twitter.
All Saints, Gimingham

The previous summer, I'd started revisiting the churches of Norfolk with a vengeance, but coming back to Gimingham in June 2019 after 13 years away I found I could remember absolutely nothing about it. Gimingham is the next village to Trimingham, which is a bit too similar to be a coincidence, wouldn't you say? One means the homestead of Gimma's people, the other the homestead of Trimma's people. But the symmetry pleased me when I first visited, and still does.

Set in a land of churches which are giants in size and stars in the ecclesiological firmament, All Saints is a fairly modest, mostly Perpendicular church which is nonetheless set in a lovely graveyard. The chancel is earlier, and Pevsner records quite a lot of money being spent here in the late years of the 15th century and the early years of the 16th. The best of the fruits of this investment is the magnificent south porch with its upper storey, the windows echoing image niches.


That the church is in such fine fettle today can be put down to a rather overwhelming restoration in the 1860s, and you step into what is, to all intents and purposes, a Victorian church. But it is a pleasant one, and there are some old bench ends preserved and still in use. One of them, intriguingly, features a gryphon guarding the head of a man, similar to a surviving bench end at Neatishead.Also still in use is the font, which probably dates from about the time of the chancel.

As with all the churches around here All Saints is welcoming to strangers and passers-by, and is exactly the kind of pleasant, ordinary church which should be kept open all the time as an act of witness, so that we can all pop in on the off-chance for a spot of spiritual refreshment. That is surely one of the major roles of a building like this in the modern age, and an open parish church is one of the finest acts of witness that the Church of England possesses. No one is going to come here in search of dramatic historical or artistic survivals. This building stands as a house of prayer and a touchstone to the long Gimingham generations, and for this, the parish of Gimingham should be proud of itself.

Simon Knott, July 2019

Follow these journeys as they happen at Last Of England Twitter.
| | | | | | | | | | | | | | | | | | | | |
| --- | --- | --- | --- | --- | --- | --- | --- | --- | --- | --- | --- | --- | --- | --- | --- | --- | --- | --- | --- |
| | | | | | | | | | The Churches of East Anglia websites are non-profit-making, in fact they are run at a considerable loss. But if you enjoy using them and find them useful, a small contribution towards the cost of web space, train fares and the like would be most gratefully received. You can donate via either Ko-fi or Paypal. | | | | | | | | | | |
home I index I latest I introductions I e-mail I about this site I glossary
Norwich I ruined churches I desktop backgrounds I round tower churches
links I small print I www.simonknott.co.uk I www.suffolkchurches.co.uk