home I index I latest I glossary I introductions I e-mail I about this site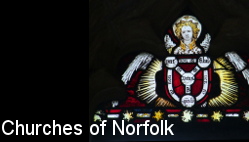 All Saints, Hackford, Reepham
Follow these journeys as they happen at Last Of England Twitter.
All Saints, Hackford, Reepham

The parish churches of Whitwell and Reepham sit together in the same churchyard in the centre of the little town of Reepham. Once there were three churches, for the remains of All Saints, Hackford survive in the south-west corner of the churchyard. The background to this unusual 'three-in-one'' arrangement is discussed on the page for Reepham church.

It was unlikely that all three of the Reepham churches would remain in use once the Reformation came along, and in the event this was the one that went first, taken down in the 1540s. The building's demise is put down to a fire, but the date suggests it was actually derelicted by the Protestant reformers. In any event, it clearly no longer served a useful purpose. The materials were used to expand Whitwell church, into which parish it was subsumed.

It can never have been a very big church. What survives consists of a flint wall with a bricked-up window in it, with the knapped flints facing east, which is to say that they were on the eastern exterior of a wall. The remains are close to the western boundary of the churchyard, so if this was the east wall of a chancel it must have been a small church indeed. Perhaps it was the eastern wall of a south porch. When I first came here in 2004 the ruin was overgrown, with bits of it falling off, but In recent years it has undergone a restoration and makes an interesting adornment to the well-kept churchyard.

Simon Knott, June 2021

Follow these journeys as they happen at Last Of England Twitter.
| | | | | | | | | | | | | | | | | | | | |
| --- | --- | --- | --- | --- | --- | --- | --- | --- | --- | --- | --- | --- | --- | --- | --- | --- | --- | --- | --- |
| | | | | | | | | | The Churches of East Anglia websites are non-profit-making, in fact they are run at a considerable loss. But if you enjoy using them and find them useful, a small contribution towards the cost of web space, train fares and the like would be most gratefully received. You can donate via either Ko-fi or Paypal. | | | | | | | | | | |
home I index I latest I introductions I e-mail I about this site I glossary
Norwich I ruined churches I desktop backgrounds I round tower churches
links I small print I www.simonknott.co.uk I www.suffolkchurches.co.uk