home I index I latest I glossary I introductions I e-mail I about this site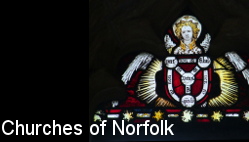 Chapel of the Holy Spirit, Houghton St Giles
(Catholic National Shrine of Our Lady of Walsingham)
Follow these journeys as they happen at Last Of England Twitter.
Chapel of the Holy Spirit, Houghton St Giles
(Catholic National Shrine of Our Lady of Walsingham)

This little chapel with a bell was built in 1938 on to the side of the Slipper Chapel to provide pilgrims to the Shrine of Our Lady with a place to light candles. With thousands of visitors every year, it was no longer practical for those candles to be lit in front of the statue itself. Instead, this small, rectangular space was dedicated to the purpose. A visit to the chapel was unforgettable. You entered it from the shrine gardens into a corridor linking the Chapel of the Holy Spirit with the Slipper Chapel. At once, the smell of burning candles would hit you, and on a summer day the sheer heat in this space could overwhelm. On a busy day there could be several hundred of these large candles alight at once, and it could be difficult to find a place to put yours. Inevitably, in the modern era the safety risk was recognised, and although it is still possible to light a small candle in the chapel, it has been reinvented as a kind of oratory, with an altar flanked by statues of St Thomas More and St John Fisher. Still remaining as the reredos is a mosaic of the Day of Pentecost by Anna Wyner.

Simon Knott, February 2023

Follow these journeys as they happen at Last Of England Twitter.
| | | | | | | | | | | | | | | | | | | | |
| --- | --- | --- | --- | --- | --- | --- | --- | --- | --- | --- | --- | --- | --- | --- | --- | --- | --- | --- | --- |
| | | | | | | | | | The Churches of East Anglia websites are non-profit-making. But if you enjoy using them and find them useful, a small contribution towards the cost of web space, train fares and the like would be most gratefully received. You can donate via Paypal. | | | | | | | | | | |
home I index I latest I introductions I e-mail I about this site I glossary
links I small print I www.simonknott.co.uk I www.suffolkchurches.co.uk
ruined churches I desktop backgrounds I round tower churches