home I index I latest I glossary I introductions I e-mail I about this site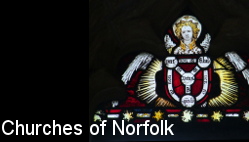 Chapel of the Holy Spirit, Houghton St Giles
(Catholic National Shrine of Our Lady, Walsingham)
Read the captions by hovering over the images, and click on them to see them enlarged.

Chapel of the Holy Spirit, Houghton St Giles
(Catholic National Shrine of Our Lady, Walsingham)

This little chapel was built in 1938 to provide pilgrims to the adjacent National Shrine of Our Lady with a place to light candles. With thousands of visitors every year, it was no longer practical for those candles to be lit in front of the statue itself. Instead, this small, rectangular space was dedicated to the purpose.

A visit to the chapel is unforgettable. You enter it from the shrine gardens into a corridor linking the Chapel of the Holy Spirit with the Slipper Chapel. At once, the smell of burning candles hits you, and on a summer day the sheer heat in this space can overwhelm. You buy your candles at the west end, light them, and then place them on iron spikes or bricks. On a busy day, there can be several thousand candles alight at once, and it can be difficult to find a place to put yours - indeed, there is a 'waiting box' where you can leave it to be lit by the shrine custodians later.

The mosaic of the Day of Pentecost is by Anna Wyner. As with all the buildings on the National Shrine campus, a visit here can be an emotional one, especially for pilgrims who have travelled from a long way off. Here is the heart of the redemptive work of the Shrine.
Simon Knott, September 2007

Amazon commission helps cover the running costs of this site.

home I index I latest I introductions I e-mail I about this site I glossary
Norwich I ruined churches I desktop backgrounds I round tower churches
links I small print I www.simonknott.co.uk I www.suffolkchurches.co.uk