Acle Fishley Hoveton Ingham Neatishead
South Walsham St Lawrence South Walsham St Mary
Stalham Sutton Wroxham
home I index I introductions I e-mail I about this site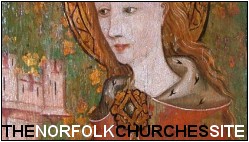 St John the Baptist, Hoveton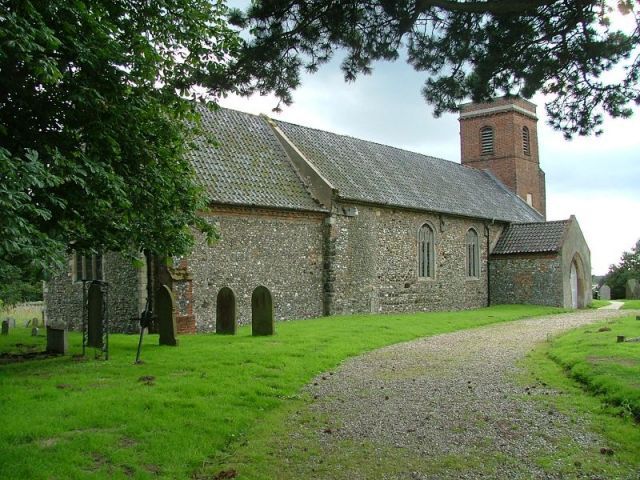 Read the captions by hovering over the images, and click on them to see them enlarged.

St John the Baptist, Hoveton

Hoveton is the northern half of Wroxham; dominated by tourist shops and the Roys of Wroxham empire, and rent by the busy traffic that the Broads generate. St John the Baptist is away from the village centre, on the road to Ludham, but I am afraid that the noise of the cars has drained any peace this churchyard might once have had.

This is an old building, and perhaps money was tight here in the 15th century, for not much was rebuilt but all was refashioned and restored. Then, in the 18th century, the restrained red-brick tower was built. Internally, it is very Victorian, the work of Herbert Green.

His is pretty much all the woodwork, although there are some old bench ends cobbled on - this was the 1890s, after all. Curiously, Pevsner blames the scissor-braced roof on Green, but the guide insists the whole church was ceilured from the 16th century until repairs in 1952, when the plaster was taken out and the roof revealed.

One family dominates this church with their memorials and hatchments; the Blofelds are everywhere. But the delight of this church is its glass, from the medieval survivals, through the roundels (including a gorgeous Mother of God Enthroned) to Ninian Comper's famous east window depicting Christ and the two St Johns, details of which you can see below.

There is a very curious locking arrangement here, so ingenious that I can't think why more churches don't try it. There is an automatic door with a timelock on it. Although access is available during the day, outside of these times you can't get in; for safety reasons, of course, you can still get out. Very sensible.

Simon Knott, September 2004

You can also read: an introduction to some Broadland churches I
an introduction to some Broadland churches I
Acle Fishley Hoveton Ingham Neatishead
South Walsham St Lawrence South Walsham St Mary
Stalham Sutton Wroxham
Amazon commission helps cover the running costs of this site.
home I index I latest I introductions I e-mail I about this site I glossary
links I small print I www.simonknott.co.uk I www.suffolkchurches.co.uk
ruined churches I desktop backgrounds I round tower churches