home I index I latest I glossary I introductions I e-mail I about this site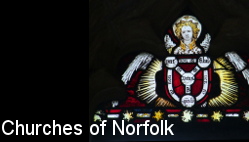 All Saints, Intwood
Read the captions by hovering over the images, and click on them to see them enlarged.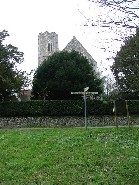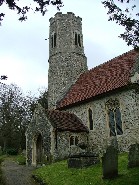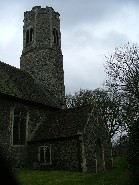 All Saints, Intwood

The southern fringe of the city of Norwich can seem as rural and remote as anywhere in the county. Intwood church, just beyond the suburbia of Eaton and Cringleford, stands above a deep-set meeting of lanes, with the great pile of Intwood Hall behind it. The parishes are densely packed around here. Inevitably, several fell out of use after the 16th century Reformation, and All Saints was one of them. When Henry Hobart bought Intwood Hall in the 1590s, he restored All Saints to use; principally for the view from the House, one assumes. he used the masonry of the similarly derelict All Saints church at Keswick, a mile or so off.

The setting is the greatest asset of the church. The 15th century top to what is otherwise an early tower stands like a crown above the characterful graveyard. Just to the west of the church is a fine early 20th century memorial with images of Faith, Hope and Charity.

Given that the church was restored in the 1590s, an unusual date, you might expect a rather individual interior. In fact, a succession of thorough 19th century restorations have left little trace of the Elizabethans, let alone the medieval life of the building. That said, this is a typically plain, simple Victorian low church interior, with substantial poppyheaded benches which make the place feel a little overful, and a west gallery of the same period which you reach by climbing the tower stairs. There's a Gurney memorial nearby. Another significant Norwich family, as well as a taste of the Empire, is recalled by the memorial to Lieutenant Clement William Onley Unthank, who died in Lucknow in 1900, playing Polo.
Simon Knott, April 2007

Amazon commission helps cover the running costs of this site.

home I index I latest I introductions I e-mail I about this site I glossary
Norwich I ruined churches I desktop backgrounds I round tower churches
links I small print I www.simonknott.co.uk I www.suffolkchurches.co.uk