home I index I latest I glossary I introductions I e-mail I about this site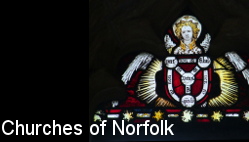 Seventh Day Adventist Church, Norwich
Read the captions by hovering over the images, and click on them to see them enlarged.

Seventh Day Adventist Church, Norwich

I don't often put Seventh Day Adventist churches on the Norfolk and Suffolk Churches sites. In fact, I think this is the first of them on the Norfolk site - being a predominantly black Church, perhaps there are not as many Seventh Day Adventist churches in Norfolk as there are in Suffolk. This is a denomination which, outside of metropolitan areas, has often reused the former churches of other denominations - in Ipswich, a fine old Methodist chapel, and in Bury St Edmunds the curiosity of a tin tabernacle which was originally built as the railway mission.

It is pleasing, therefore, to find this purpose-built building on the Dereham Road, set back beside the Catholic school, but with a car sales forecourt for immediate company. Built in the light brown brick which was popular in urban areas in the 1970s, it consists of a large hall with a single-storey entrance facing the car park and the road - it isn't clear if this is a later extension.

Seventh Day Adventists famously worship on a Saturday, and have become the majority church on several Pacific Islands. Many of the adherents in this country came to England from the Carribean, often to work in hospitals, and I have to say that they are some of the nicest people I ever meet. Perhaps it goes with the territory, as they say. Norwich is a city which is historically famous for the diversity and multiplicity of its shades of Christianity, and so it is good to see the tradition continuing.
Simon Knott, February 2009
Amazon commission helps cover the running costs of this site.
home I index I latest I introductions I e-mail I about this site I glossary
Norwich I ruined churches I desktop backgrounds I round tower churches
links I small print I www.simonknott.co.uk I www.suffolkchurches.co.uk