home I index I latest I glossary I introductions I e-mail I about this site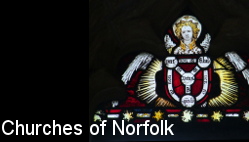 St Christopher, Norwich
St Christopher, Norwich

When the parishes of Norwich were rationalised after the protestant Reformation, the city was left with 36 of them, some tiny, others sprawling: packed, as Larkin observed, like squares of wheat. But St Christopher was not around to be one of them. Although mentioned in Domesday, it was probably a late Saxon foundation, since St Christopher is not a common dedication for an early Christian church. It sat on the corner of what are now Redwell Street and Princes Street, and you could almost reach out and touch St Peter Hungate from here. St Andrew and the Blackfriars Church were also within view.

The church was destroyed by fire sometime in the middle years of the thirteenth century, and wasn't thought worth replacing - perhaps the living had already been subsumed into that of one of the adjacent churches, and the tiny parish was summarily divided between those of St Andrew and St Michael at Plea. The site is now occupied by some fine 18th Century houses.

St Christopher was a powerful Saint in medieval times, although his cult reached its peak after this church was lost. He was, and is, the patron Saint of travellers. His figure, carrying the infant Christchild across a river, was often painted opposite the entrance to churches, so that anyone passing could open the door, see it, and say a prayer to him. To do so was believed to ensure that no sudden death would occur to the traveller before he was able to return home. In the century after the destruction of this church, the great church of St Giles was erected on the hill on the opposite side of the market place, and the chapel in the parvise to the south porch was dedicated to St Christopher.
Simon Knott, January 2011
Amazon commission helps cover the running costs of this site.
home I index I latest I introductions I e-mail I about this site I glossary
Norwich I ruined churches I desktop backgrounds I round tower churches
links I small print I www.simonknott.co.uk I www.suffolkchurches.co.uk