home I index I latest I glossary I introductions I e-mail I about this site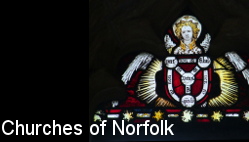 Potters House Church, Norwich
Dereham Road Baptist Church 1904-2000?
Read the captions by hovering over the images, and click on them to see them enlarged.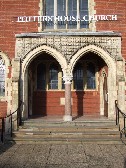 Potters House Church, Norwich

This is a landmark building on the western edge of the city centre, just beyond the ring road. This part of Norwich was heavily damaged in the Blitz of April 1942, and so this church did well to survive. It had been opened in June 1904, the ubiquitous Norwich MP George White unveiling the foundation stone. Pevsner describes the syle as hectic Gothic; the architect was AF Scott.

The twin arcaded central portico is set beneath squared-off panelling in echo of the Early English style, but once beneath it the arrangement is more familiar. Odder is the square-becoming-octagonal bell tower in the south-east corner: presumably, it once housed a spire, but I have not found any old photographs that show it.

The Baptists moved out of here at the end of the 20th Century, and today this building is an outlet for the Potters House Church, a Fundamentalist Pentecostal movement originally founded in Arizona in 1970, and which established its first church at Perth in Western Australia in 1978. Today, they have 130 churches all over the world; this is the first one in East Anglia.
Simon Knott, February 2009
Amazon commission helps cover the running costs of this site.
home I index I latest I introductions I e-mail I about this site I glossary
Norwich I ruined churches I desktop backgrounds I round tower churches
links I small print I www.simonknott.co.uk I www.suffolkchurches.co.uk