home I index I latest I glossary I introductions I e-mail I about this site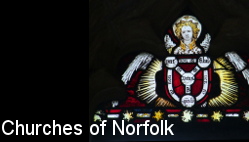 Holy Trinity, Spooner Row
Read the captions by hovering over the images, and click on them to see them enlarged.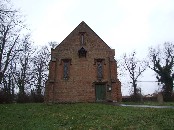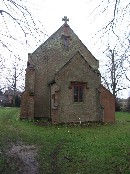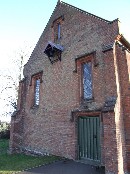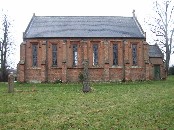 Holy Trinity, Spooner Row

The parish of Wymondham is one of the biggest in Norfolk, and way down at its southern end is the little hamlet of Spooner Row. At the crossroads in the middle of this village, hidden behind high hedges, is Holy Trinity, a chapel of ease to the vast parish church in Wymondham. It is set at an angle to the roads, for all the world as if it is sulking, and its scrubby graveyard contains just one headstone and a war memorial. I have to say that I find it a rather depressing place. I have never found the church open, and neither has anyone else I know. There is no keyholder notice, hardly any notices at all in fact, and if it wasn't for the signboard by the road you might even think that the building was redundant.

The entry for this church in Pevsner is rather odd. He says of it that it was built as a school... by John Buckler 1843. But I don't think that can be right. Holy Trinity looks like many churches built of brick in a restrained Tudor style at the turn of the 20th century. And I find it hard to believe that it was ever built as a school, because it looks like exactly what it is, a church. I'd love to know more, and I would be happy to stand corrected. There may be more clues inside, but I don't suppose there's much chance of finding out.
Simon Knott, April 2008

Amazon commission helps cover the running costs of this site.

home I index I latest I introductions I e-mail I about this site I glossary
Norwich I ruined churches I desktop backgrounds I round tower churches
links I small print I www.simonknott.co.uk I www.suffolkchurches.co.uk