home I index I latest I glossary I introductions I e-mail I about this site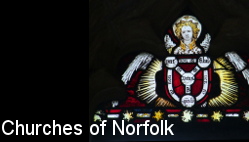 Hillcrest Chapel, Norwich
Read the captions by hovering over the images, and click on them to see them enlarged.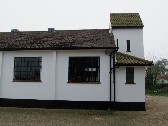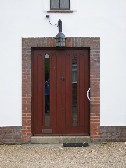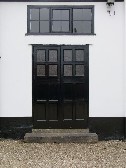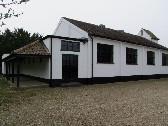 Hillcrest Chapel, Norwich

I was cycling aimlessly around the suburbs of Norwich, as I am all too often wont to do, looking for anything interesting which I might be able to photograph or write about, when I turned a corner and came across this rather pleasing little building. I hadn't known it existed, and all it had been to me was a cross on an Ordnance Survey map. I was out in the pleasant suburbia of Thorpe, up in the hilly bit above the river. I hadn't even heard of Hillcrest Chapel. It is tucked away on a road to nowhere in particular. The clean white lines and neatly-kept grounds denoted a building which is obviously well looked after, and the notice board of services and other events showed that it is also a fairly busy one.

The chapel proudly proclaims itself undenominational. My first thought was that it was probably a building of the 1920s, probably given a thorough going over in the 1970s or 1980s.

However, looking more closely, I noticed a curiosity. The dedication panel above the main entrance has been covered over. Now, this immediately suggested to me that the building had been erected for a particular denomination, and no longer served a community of that character. Perhaps they had been Baptists who had wanted to present themselves as a less dogmatic congregation. Or, intriguingly, I wondered if the church had been built as an Anglican chapel of ease to Thorpe St Andrew down by the river.

Coming home and trying to find out about it, the mystery only deepened. It appeared that the chapel was older than I'd thought. Intriguingly, in the years before and after the First World War, the minister here was the Reverend George Hegart Ramsay. In 1917, he married into the fabulous wealth of the Coutts-Lindsay family - his wife's father was the second Baronet Burges. Did this Scottish family bankroll a rebuilding of Hillcrest Chapel at that time?

I would be fascinated to learn more about this church. I'll update this entry accordingly.
Simon Knott, June 2009
Amazon commission helps cover the running costs of this site.
home I index I latest I introductions I e-mail I about this site I glossary
Norwich I ruined churches I desktop backgrounds I round tower churches
links I small print I www.simonknott.co.uk I www.suffolkchurches.co.uk