home I index I latest I glossary I introductions I e-mail I about this site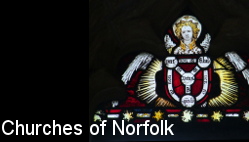 St Mary, Tivetshall St Mary
Read the captions by hovering over the images, and click on them to see them enlarged.

St Mary, Tivetshall St Mary

14c plain tower... an extraordinarily plain building... the only things of interest are a plain Stuart table and the Arms of George IV... so wrote Monro Cautley of St Mary when he came here on his tour through the churches of Norfolk in the years immediately following the Second World War.

Plainness was not necessarily a bad thing in Cautley's eyes; he hated over-restored churches. St Mary had escaped this, because during the 19th century it had been in such poor condition the parishioners had all decamped a mile up the road to Tivetshall St Margaret. It was only in the 20th century that the thatched roof here was replaced, and the building made sound.

But St Mary obviously paled in comparison with St Margaret, one of Cautley's favourite churches. And then, in 1949, St Mary paid for the lack of 19th century attention. An early jet plane broke the sound barrier while flying low above this parish, and the sonic boom sent a tremor through the tower of St Mary, causing it to collapse into the nave.

The two Tivetshall churches sit out in the fields on opposite sides of this rambling, intensely agricultural parish. To look at St Mary now, it is hard to conceive that it was still in use until less than half a century ago, the destruction was so complete. If it was not for the tracery of the great east window, you might not even recognise it as a church.

The ruin is entirely accessible without having been tamed very much, which I liked a lot. You can even enter through the old south porch, or what is left of it. And you can climb up on to the mound at the west end, all that is left of the plain 14th century tower.

The graveyard is still maintained, the grass is cut within the ruin walls. The village war memorial sits beside the former south porch, and the wreaths on it included one from the village primary school children, which was lovely. The skeletal trees that surrounded it on the raw February day we came here will be full in leaf for summertime, and this will be a verdant, beautiful place. And, as the years pass, the ruin of St Mary will continue to soften and fade, the rugged flint going back to earth, a plot of ground that will still be a touchstone, and proper to grow wise in.

Simon Knott, March 2006
Amazon commission helps cover the running costs of this site.
home I index I latest I introductions I e-mail I about this site I glossary
links I small print I www.simonknott.co.uk I www.suffolkchurches.co.uk
ruined churches I desktop backgrounds I round tower churches