home I index I latest I glossary I introductions I e-mail I about this site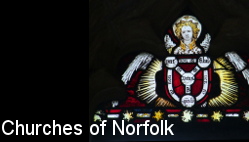 All Saints, West Beckham
Read the captions by hovering over the images, and click on them to see them enlarged.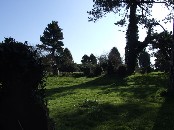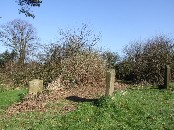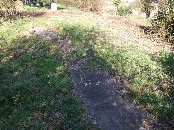 All Saints, West Beckham

By the middle of the 19th century, most English medieval churches needed serious restoration work, and sometimes complete rebuilding. If this was necessary it was usually in the place of the original church, but it seems to have been the fashion in north Norfolk to rebuild away from the original site in a more convenient location, usually in the middle of the village.

The adjacent parishes of East and West Beckham had been combined into one, and both medieval churches were demolished, a single new church being built in the centre of West Beckham, combining the two original dedications. It is said that materials from the old church were used in the construction of the new one, and certainly there is very little left to see of the church of All Saints. A line of ledger stones marks the centre of the former chancel, and a low part of the south wall also survives. We would probably have not even seen this much if it hadn't been for the fact that the site had been cleared of overgrowth in the days before our visit.

The graveyard is still in use by the parish. One old headstone caught my eye, probably that of a former miller, as it features a large postmill with billowing sails.
Simon Knott, April 2008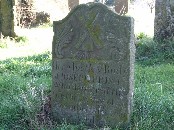 Amazon commission helps cover the running costs of this site.

home I index I latest I introductions I e-mail I about this site I glossary
Norwich I ruined churches I desktop backgrounds I round tower churches
links I small print I www.simonknott.co.uk I www.suffolkchurches.co.uk