home I index I latest I glossary I introductions I e-mail I about this site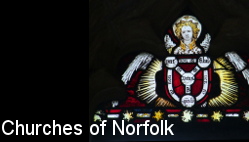 St Andrew, Westfield
Read the captions by hovering over the images, and click on them to see them enlarged.

St Andrew, Westfield

I keep meaning to go back to Westfield, although I fear that it isn't going to happen in a hurry. St Andrew is one of hundreds and hundreds of fairly insignificant little churches in the rolling fields and copses between Norwich and Swaffham. Unusually, it is kept locked, and while there is a keyholder I have not found them in.

The exterior is not without interest, for this is pretty much all a battered survival of the 14th and 15th centuries. The building appears rather truncated, because the chancel was demolished in the late 17th century, and the chancel arch filled in. The rabbit ears on top of the tower may date from the same time.

The frosted glass makes an appraisal of the inside rather more difficult. Mortlock, who did get inside, and is a great judge of these things, found it charming in its simplicity... unspoiled and soothing. It sounds exactly the kind of church which really should be open to strangers, pilgrims, locals and passers-by every day of the year, doesn't it? Peter Stephens photographs of the interior below show that charm, and perhaps a certain elegance as well.
Simon Knott, March 2008

Amazon commission helps cover the running costs of this site.

home I index I latest I introductions I e-mail I about this site I glossary
Norwich I ruined churches I desktop backgrounds I round tower churches
links I small print I www.simonknott.co.uk I www.suffolkchurches.co.uk