The Burnhams
Deepdale I Norton I Overy I Priory I St Henry I Sutton I Thorpe I Ulph I Westgate
home I index I latest I glossary I introductions I e-mail I about this site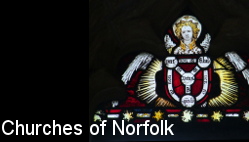 Priory church of St Mary, Burnham Norton
(Burnham Market)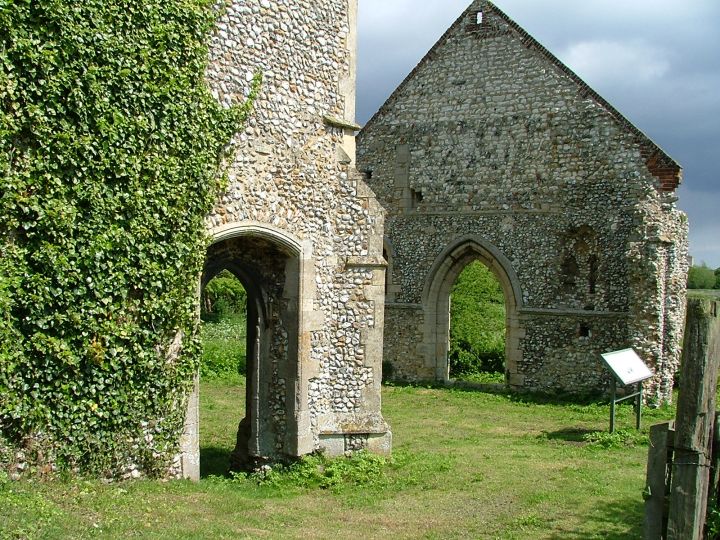 Read the captions by hovering over the images, and click on them to see them enlarged.

Priory church of St Mary, Burnham Norton (Burnham Market)

Although it is set opposite Burnham Market primary school, just off the road to Burnham Overy, this ruin is actually in Burnham Norton parish, by virtue of being on the west bank of the River Burn. Another satisfying ruin, because it is easy to interpret and when you explore it you are clear in your mind exactly where you are.

Burnham Priory was the first Carmelite foundation in Norfolk, dating from 1241, shortly after Mount Carmel was lost during the crusades. There are various lumps and outcrops of masonry scattered around the field, but the the two substantial remains are the gatehouse and the west wall of the priory church. The gatehouse is two storied, and we know that the upper floor was originally a shrine chapel. It was probably built in the early 1300s. The Decorated tracery in the window was apparently lost to vandals as recently as the 1960s. underneath, the passageway is vaulted, and there are two damaged bosses, which are hard to interpret. One shows an angel blowing a trumpet, the other a lion. There do not appear to have been any others. Wooden steps inside now appear to be the principal meeting place of the bored youths of Burnham Market.

The west wall of the Priory church of St Mary is about four metres to the west of the gatehouse. There are image niches flanking a matching doorway, and beyond that... nothing. The outline of the church may just about be traced in the field beyond, and then there is the river, and then the beautiful tower of St Clement, Burnham Overy on the next hill.

Simon Knott, May 2005
The Burnhams
Deepdale I Norton I Overy I Priory I St Henry I Sutton I Thorpe I Ulph I Westgate
Amazon commission helps cover the running costs of this site.
home I index I latest I introductions I e-mail I about this site I glossary
links I small print I www.simonknott.co.uk I www.suffolkchurches.co.uk
ruined churches I desktop backgrounds I round tower churches