Garboldisham St John the Baptist Garboldisham All Saints
home I index I introductions I e-mail I about this site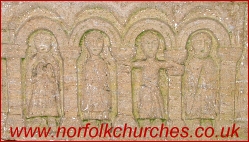 All Saints, Garboldisham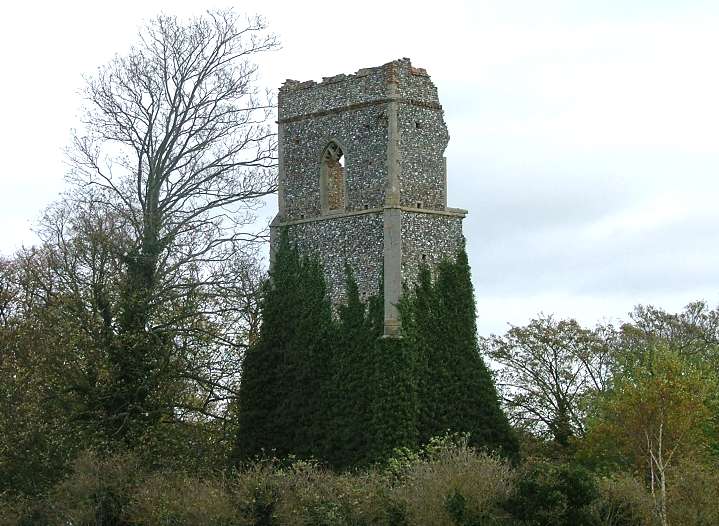 Read the captions by hovering over the images, and click on them to see them enlarged.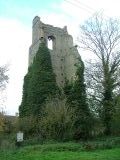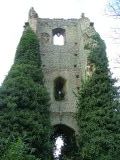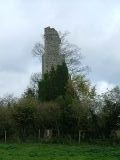 All Saints, Garboldisham

I love a good ruin, and here at Garboldisham the sadness of the loss of All Saints is somewhat relieved by the presence of the lively, beautiful St John the Baptist a couple of hundred yards off. The ruin is set on a wide green cushion, which must once have been the churchyard, though no headstones survive.

In 1734, the eastern face of the 14th Century tower collapsed into the nave, and the building was abandoned, this being a time when there was hardly a lot of pressure on churches in terms of capacity, and in any case sentiment about the buildings was treated with suspicion as possible evidence of popishness.

Today, nothing of nave or chancel remains. The western face of the tower stands starkly, buttressed by remains of the north and south faces. But there is a big crack running right down its middle, and I can't help wondering if it is long for this world.

Simon Knott, December 2004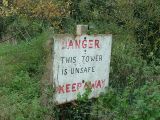 Garboldisham St John the Baptist Garboldisham All Saints
Amazon commission helps cover the running costs of this site.
home I index I latest I introductions I e-mail I about this site I glossary
Norwich I ruined churches I desktop backgrounds I round tower churches
links I small print I www.simonknott.co.uk I www.suffolkchurches.co.uk