home I index I latest I glossary I introductions I e-mail I about this site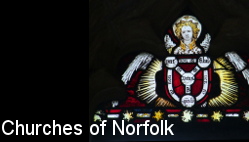 St Mary, Fishley
St Mary, Fishley

Not far to the north of the busy little town of Acle sits this locked, isolated church riding a tree-crowded mound among the fields. The nearest road is a fair distance away, but there is a track from it which is just about driveable. There are no houses nearby, but the village of Upton is across the fields, and there is a good view of Upton church about half a mile off.

The church was essentially rebuilt in the 19th Century, and not much old survives, although you can see that at heart this was a Norman church. The little north aisle, which in Ladbroke's drawing is taken under the single span of a thatched nave roof, was rebuilt on the same plan, but given an awkward roof of its own which veers up suddenly and is supported inside by a cast iron column - I hesitate to call it an arcade. There is a restrained 15th century crenellation to the top of the tower, and pretty little lancets and Y tracery windows. Pevsner claims that the south doorway is original. I couldn't see that it could be, as it is so neatly cut. It is all very understated.

The church is currently open on a Friday, and enthusiastically stewarded. It seemed very popular with visitors and dog walkers on the day we called, which was pleasing. Inside, all is renewed, there's nothing medieval at all, and you get a real feel for what it must have been like to attend divine service in this church a century or so ago. All that has been added since is essentially clutter, and this is a very crowded interior where you find yourself edging around tables and ladders.

The churchyard is rather over-maintained, as if it were some enthusiast's hobby, and seemed quite out of keeping with the haunting setting. Even the 19th Century headstones have been relettered. It is all a bit domestic and sanitised. It seemed to me that, having seen the wonderful view of this church from a distance, apparently ancient and brooding among its pines, I had probably seen the best of it.
Simon Knott, October 2016
| | | | | | | | | | | | | | | | | | | | |
| --- | --- | --- | --- | --- | --- | --- | --- | --- | --- | --- | --- | --- | --- | --- | --- | --- | --- | --- | --- |
| | | | | | | | | | The Churches of East Anglia websites are non-profit-making. But if you enjoy using them and find them useful, a small contribution towards the cost of web space, train fares and the like would be most gratefully received. You can donate via Paypal. | | | | | | | | | | |
You can also read: an introduction to some Broadland churches I
Acle Fishley Hoveton Ingham Neatishead
South Walsham St Lawrence South Walsham St Mary
Stalham Sutton Wroxham
home I index I latest I introductions I e-mail I about this site I glossary
links I small print I www.simonknott.co.uk I www.suffolkchurches.co.uk
ruined churches I round tower churches